This is my ANH E11 Stormtrooper blaster, cast from a real sterling, with eagle hengstler counter.
Han Solo ESB and ANH blasters: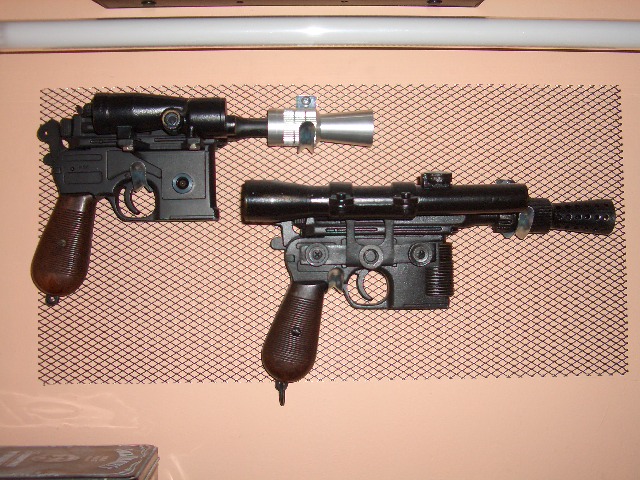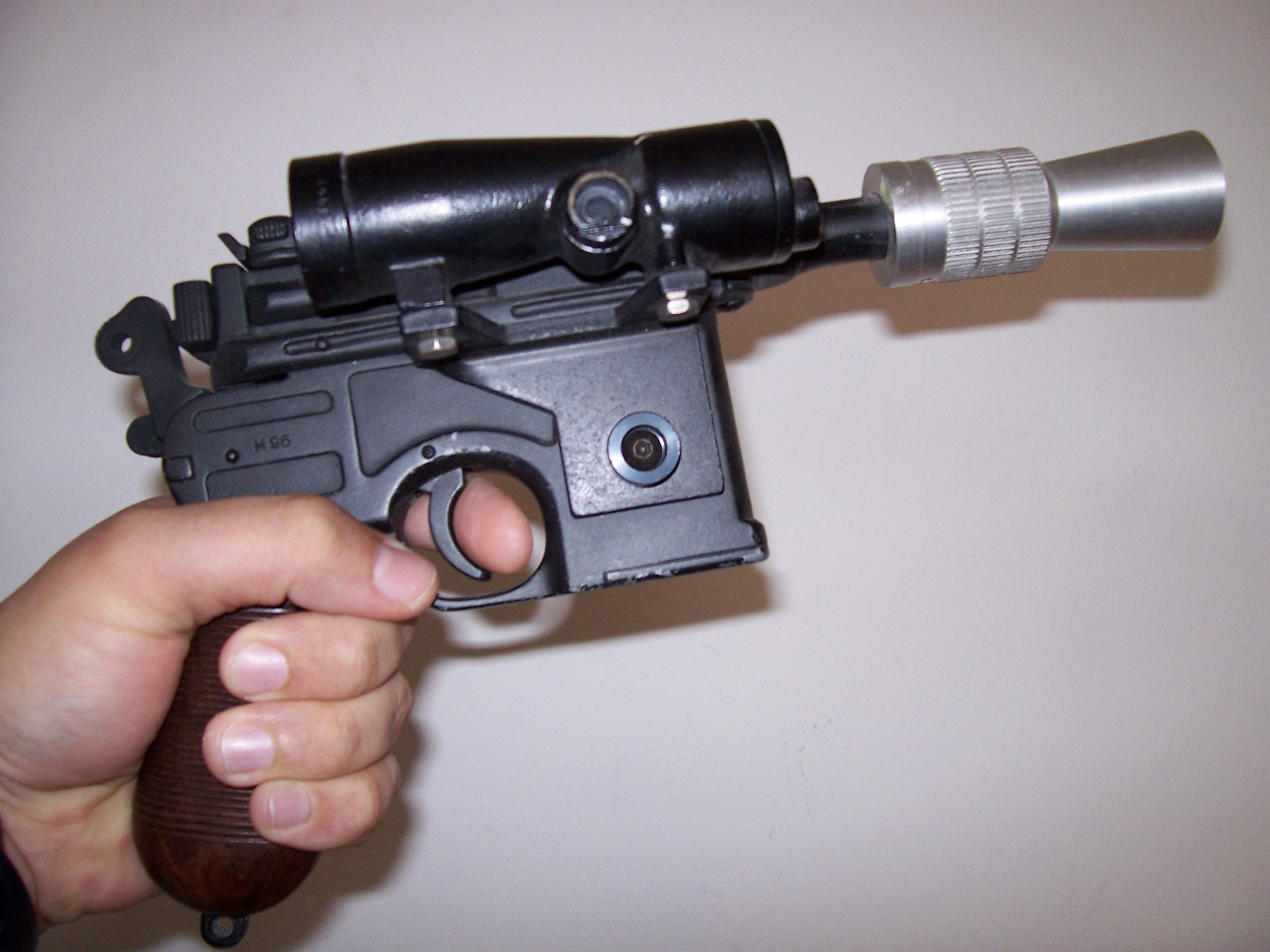 Han/Luke ESB blaster: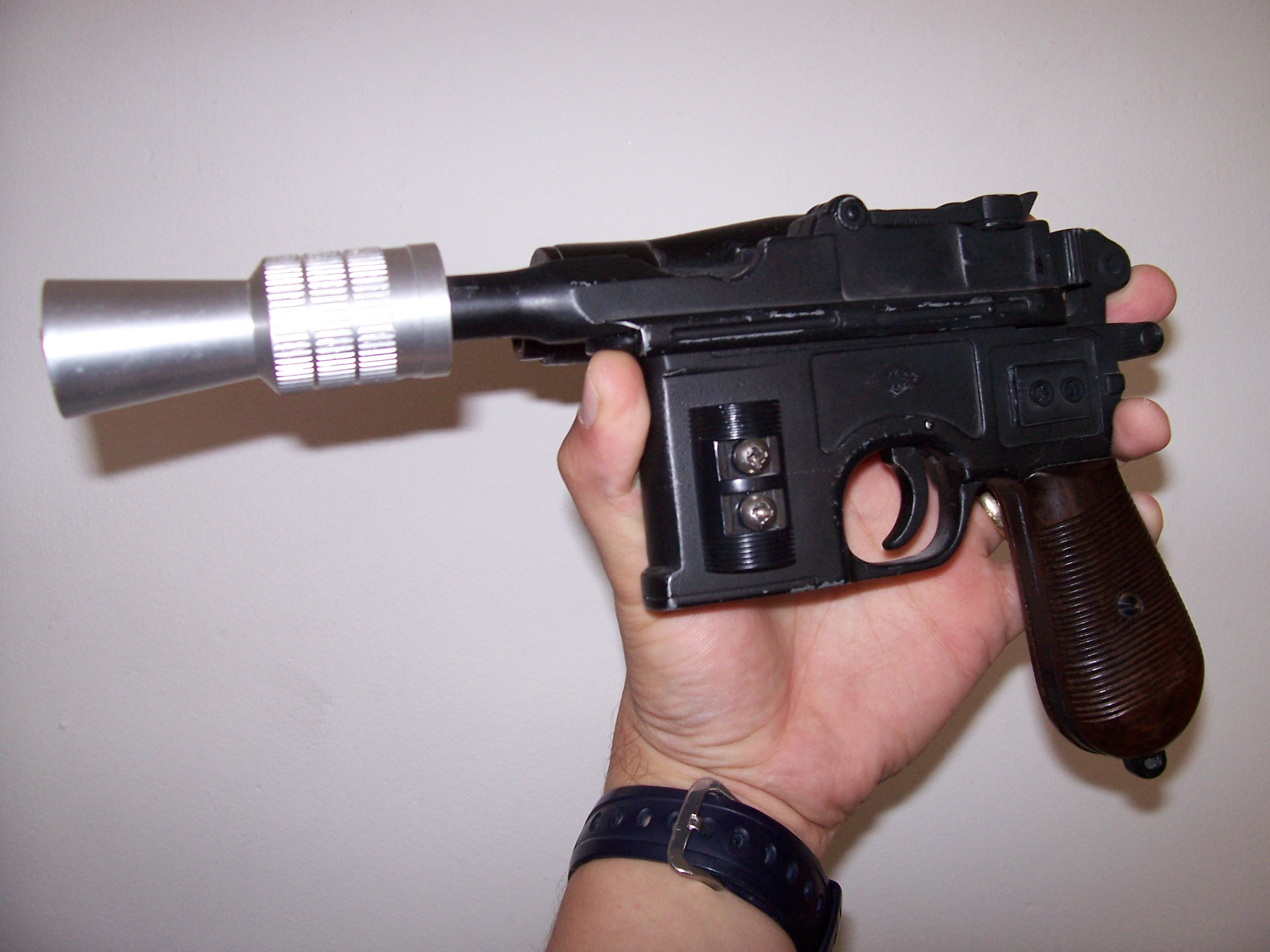 These are built around Denix Mausers, using machined aluminium and some resin parts.
Some nice props can also be made using plastic 'toy' blasters too.

Here's a Tiger Toy Han Solo blaster I repainted and weathered: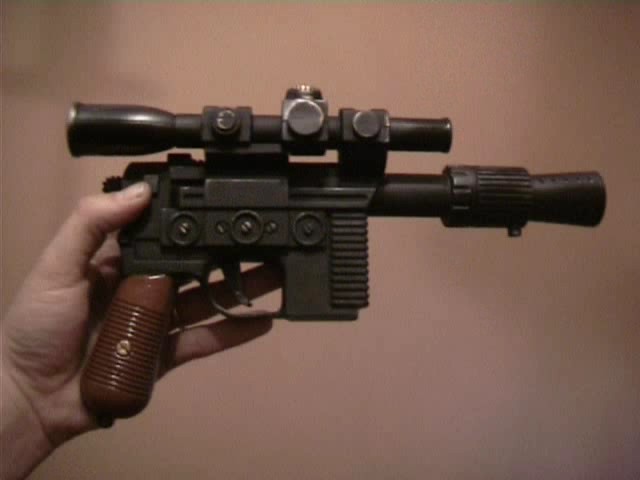 I repainted a few of these a while back, here's what I did;

Lightly sand the blaster with a fine grade sandpaper, remove the lettering on the side this way too.

Prime with grey auto-primer and leave for a day or two to dry.

Add a base coat of silver (just use regular silver, NOT metallic silver as it doesn't take the top coats very well). Leave to dry.

Add a coat of matt black paint. My favourite brand is plasti-kote project paint fast dry enamel.

Once it's dry. highlight the barrel and sight with a gloss black, this adds a bit of depth to the paint-job.

Now, using fine grade sandpaper, CAREFULLY begin the weather the blaster by removing parts of the black paint, exposing the silver colour underneath. Try to pick areas which would naturally recieve wear and tear from normal use. You can also add some weathing topically (ie with a small artist brush in places).

Weather the sight with some brass coloured paint for greater authenticity.

Now, choose a nice brown wood-coloured enamel for the grips. I use the little tins of humbrol for this. carefully paint in the two sides of the grip and leave to dry. Once dry, spray a little bit of the matt black onto a saucer and dip your finger in it, wiping off most of the excess. Carefully rub some of the black into the brown grip area, giving some depth to the paint and weathing the area. Looks much better than shiny brown.

Finally, use your brass coloured paint to paint the 'screws' in the middle of the grips.

That's about it.

Oh, if you wanted to you could buy a silver washer and superglue it to the side of the blaster to replicate the silver disk on the real prop.
Similar results can be had with the toy Stormtrooper blasters from Hasbro - a bit of modification and a repaint and they make great 'trooping' blasters!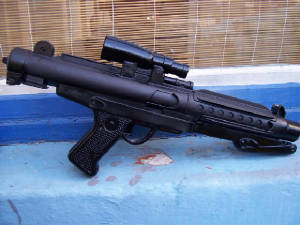 Disclaimer: This site is intended to show fan art and is not affiliated with Lucasfilm, Universal,New Line or any license holder in any way. None of the items on this site are for sale. I do not sell prop replicas. All characters and their likenesses are © the respective license holders.