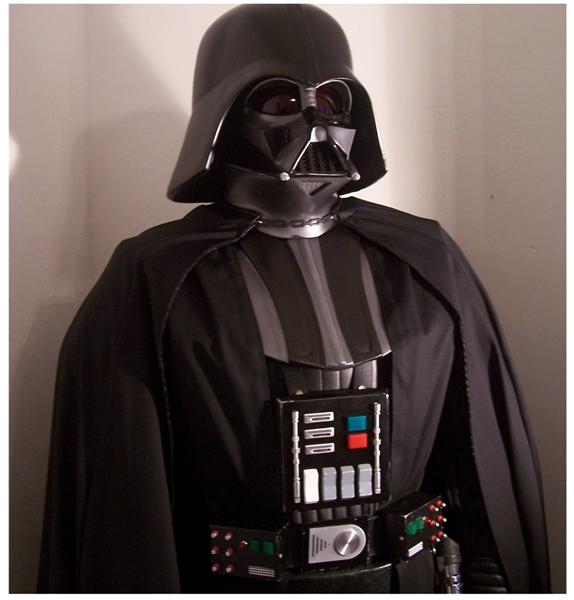 After several years of upgrades and modifications, this is my lifesize DARTH VADER as seen in Episode IV: A New Hope. Each film in the original trilogy featured a slightly different designed Vader. The ANH version featured a more battle-worn look for the Sith Lord, depicting Vader at his meanest and best, in my opinion.


The helmet, chest armour and shins originate from casts of the screen-used originals.The ribbed body suit, gloves, robes and codpiece have been made by artisans to a high degree of accuracy. I built the chestbox myself and assembled the belt using 'found part' items ('real world' items which after much research by the prop community have been identified as used on the original costume) and machined metal parts.


Vader stands at 6'9" - a very imposing sight!


To achieve this, I modified a 6'1 fiberglass mannequin, adding wooden spacers to the midsection, arms and legs to extend them. The mannequin was then bulked out using foam and gaffer tape to replicate the stats of Dave Prowse circa 1976.



I've also installed some simple electronics in the display to feature the famous 'Vader breathing' sound on a loop, plus an mp3 player to incorporate some of the best Vader sound-bites and phrases.


Despite making good progress with this piece, I don't consider it finished. There are still some upgrades I wish to make in the coming months ,so he is still a WIP (work in progress)!